August 09, 2022
Aid efforts on the Poland-Ukraine border: a conversation with Ada Wordsworth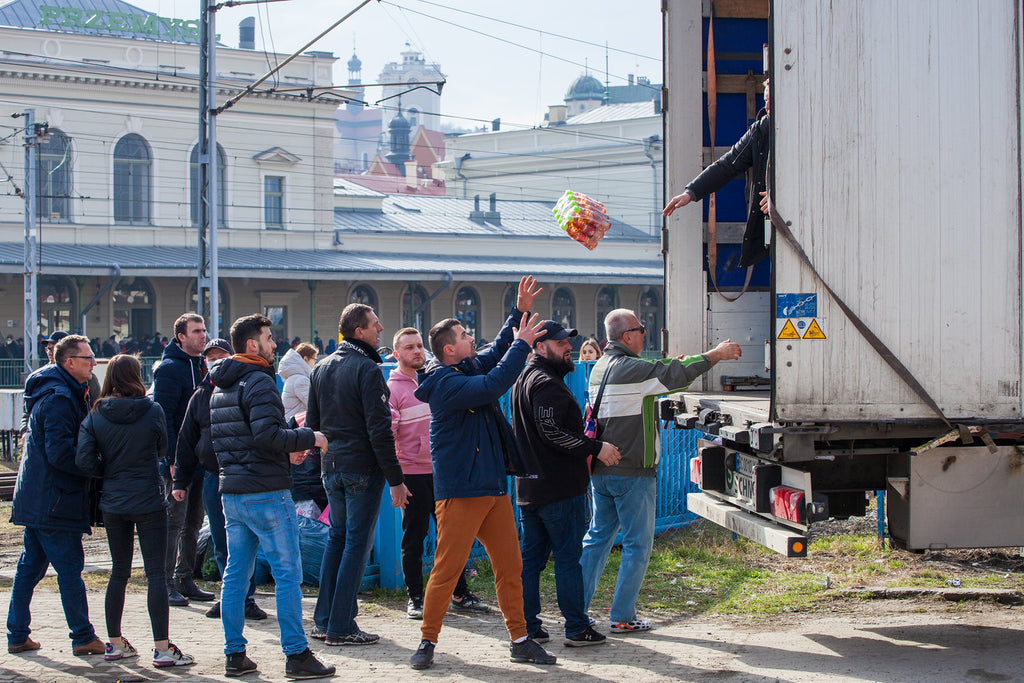 Russia's genocidal efforts in Ukraine have prompted a huge amount of fundraising, awareness raising and donations to organisations who are helping those displaced by the war. Unfortunately, a lot of the money is going towards big, multinational aid organisations, whose presence in Ukraine is negligible.
In order to get a better idea of what the situation on the ground is like, I spoke to Ada Wordsworth, a co-director of The Kharkiv and Przemyśl Project (KHARPP). Ada interrupted her studies at Oxford in Russian and Czech to travel to Przemyśl, a city in Poland, near the border with Ukraine. She initially hoped to volunteer as a translator for those fleeing from Ukraine, and this quickly developed into far wider aid work in the region. 
My conversation with Ada was incredibly educational - not only for painting a picture of the overall situation on the border, but also for outlining what needs to happen now, and where donations are most needed.
Firstly - how are you?
I'm okay. I have spent the past month based in Lviv, moving between Przemyśl and Kharkiv, which definitely takes its toll, but this last week I've just been in Lviv doing admin work and taking a step back from the more hands-on side of things, which has been very good for me.
You arrived at the Polish-Ukrainian border shortly after the full scale invasion of Ukraine. What was your goal there initially, and how has that developed into your work with KHARPP?
Two days after the war started, it became very clear to me that I couldn't sit at home and continue my Masters – reading Russian literature and writing about it like it was normal, and I decided to book a flight – I got to Przemyśl exactly two weeks after the war started.
My naïve goal was to arrive and find an NGO who I could volunteer with as an interpreter. Upon my arrival, it was immediately apparent that there was no major NGO presence, and that the entire on-the-ground situation was being handled by individuals. The first week I was in Przemyśl, there were 50,000 people passing through the train station every day, with only three Ukrainian or Russian speaking volunteers – myself and two Belarusian refugees.
I set up a JustGiving to help fund people's onward transport, as the free trains were ending up filling up every day, with thousands forced to stay at the refugee centre in Przemyśl.
By the end of that first week, a few more British Russian-speakers had arrived from the UK, and we were all living together in a guest house outside the city. One of them, Alex, had set up a fundraiser for Kharkiv (specifically for the grassroots organisation Kharkiv Aid Office), having met some refugees who had fled the city in Krakow. It soon became apparent that we could work together much more effectively if we could merge our campaigns, allowing us to use our on-the-ground knowledge to determine where funds were most needed. So, a few weeks later, we founded KHARPP (The Kharkiv and Przemyśl Project).
One of the things I was most grateful for was your account of what it was like on the border for the London Review of Books. You wrote it when there was still blanket coverage of the war on all our screens, but it painted a picture of a very mixed set of priorities among those who were there. What made you want to write about this? Does the border look different now?
At the time I wrote that piece for the LRB, I was surviving on a mixture of adrenaline and rage.
The piece was effectively a form of therapy for me – I needed to get my anger and frustration out somewhere, and the LRB Blog kindly provided an outlet for that! I vividly remember one day in spring when the station was full to bursting, with not a spare seat available anywhere and the corridors crammed with people, children crying and everyone shouting at each other, and an American Evangelical group walked into the centre of the hall and started singing and playing guitar. I completely snapped and shouted at them that they had to get out.
Similarly, I can't even count the number of Western European art students I met over those first two months who would arrive with no language skills or sense of ethical responsibility, and start taking edgy black-and-white photos of deeply traumatised people on their vintage cameras, never once asking for consent.
The situation is different now – numbers are much smaller crossing the border, for one thing, and interest has really died down. There is one vegan group who still hang around the station leafletting refugees about the need for a plant based diet, and look at you with complete bafflement when you ask if they might be able to help you carry a babusja's ten bags, but they are the last of that particular genre of people left. We'll see if the others return in winter, when we are anticipating another wave of refugees.
Something else that I felt you were ahead on was pointing out how major NGOs did not have a major presence on the ground. It's something I've seen people saying over the past couple of months, but you were speaking about this in April.
Has there been any shift in the big organisations developing a presence there?
No. UNHCR briefly turned up to photograph Ben Stiller a few weeks ago, and sometimes we'll get someone from Red Cross wandering around with a clipboard, but the response remains grassroots, based around small organisations. This is the same in Kharkiv, where Medicins San Frontiers sent a Russian staff member to visit our partner organisation, Kharkiv Aid Office, who proceeded to collect a load of data, decide it was too dangerous to organise medicine deliveries, and left them with a box of cereal bars.
Are there any big organisations that people can donate to with confidence, or are smaller efforts purely the way to go? Who would you recommend?
World Central Kitchen do great work, and I do recommend them, but I would also say that they are already a really rich organisation and are recipients of a huge amount of corporate support.
Furthermore, even they rely on grassroots organisations to help them – in Kharkiv, food that we buy is given to World Central Kitchen to cook, before it is delivered around the city by Kharkiv Aid Office.
I would implore people to give to groups like ours, or to grassroots groups in Ukraine – Kyiv Angels do amazing work, as do Helping To Leave and Come Back Alive. I'd also recommend, ForPEACE, an American charity run by Ukrainian experts who provide protective equipment and medicines to troops in the south of the country.
What kind of volunteers and skills do you need to help with your efforts?
Our work in Przemyśl is predominantly that of translators. Ukrainian and Russian speakers are always welcome to join us, as are Polish speakers, and we are currently particularly looking for people who can come out during the autumn and winter, when the cold weather is expected to bring with it a second major wave of refugees.
We are also looking for drivers who are able to work as shuttle services around Przemyśl and the border area. As the municipality winds down its support for refugees, we are having to fill the gaps that they leave – one of these being the 24- hour shuttle services from the station and the border to the refugee centre. I would really encourage anyone who wants to help to get in touch via email  - volunteer@kharpp.com.
How far are people coming from within Ukraine to your position on the border?
People come from across the country. There are direct trains to Przemyśl from as far in as Zaporizhzhia (over a thousand kilometres away), where there are large numbers of internally displaced people from the Donbas region.
A lot of people now are coming from Kherson, fleeing ahead of the counteroffensive. The stories they tell are unbearable – this week there was a news story about an evacuation bus being bombed by Russia on its way out of the city, which understandably shocked people. From my perspective it was bleakly unsurprising - almost every person I've met from Kherson has told me about being shot at and losing people in their convoy as they left.
The time where news organisations are covering the conflict and related issues on a non-stop basis has definitely come to an end. With it being in the news less, with expert correspondents being called home, what, in your view, are the dangers when interest is waning? Have you noticed any changing attitudes from Polish authorities, for example?
Having spent the first two months of the war doing nothing but complain about the hordes of insensitive journalists crowding Przemyśl, expecting free translation work from volunteers and shoving cameras in the faces of traumatised children with no regard for parental consent, as well as driving up rent for volunteers and refugees alike, the total dearth at this point is equally as concerning.
The Polish authorities are rolling back all support that they were providing bit by bit, and we were told by the mayor that the people crossing now are no longer considered refugees, but tourists. The treatment of Roma displaced people has also become markedly worse since the journalists left.
You are a student at Oxford, studying Russian and Czech. Are you going to return to your studies? If so, when?
I have technically suspended my masters, with the intention of going back next summer to finish the last semester. Oxford have been very understanding about my inability to continue with the Russian aspect of the degree, allowing me to change my thesis topic. I had been studying Brodsky and his work whilst he was in internal exile, but having read his poem 'On the Independence of Ukraine', I abandoned that. I would have had to rewrite the whole thing in the context of his imperialist views, which wasn't something I felt able to do. Right now the thought of going back into any form of academia feels completely alien, so I am playing my return by ear.
Thanks for your time Ada - is there anything else you'd like to mention?
I just want to emphasise to everyone the importance to continue to donate to small organisations. Winter is going to be incredibly difficult in Ukraine. People living in flats with no heating and blasted out windows can survive in the summer, but things will change quickly when the weather gets cold. Ukraine is holding the line for the entire of Europe right now, and every single one of us must commit to doing what we can to help them in this fight.
KHARPP are collecting donations at a series of locations across London throughout August. They are looking for non-perishable food items, mobility aids, over-the-counter medications, and hygiene products. You can see the list of locations below.
Photo credit: Mirek Pruchnicki